Looking for a sweet treat to satisfy your Japanese snack cravings? Look no further than Minamiboso City, which is known not only for its world-class seafood, but also for its innovative twists on traditional Japanese confectionery. Seieido in Ambaya, for example, offers a Sazae Monaka of marine-inspired Wagashi that features a turban shell design that represents the seafood specialties of the Minamiboso region. "Monaka" is a popular souvenir, not only for its appearance and delicious taste, but also for the variety of Monaka available. It would be fun to try them all and find your favorite one.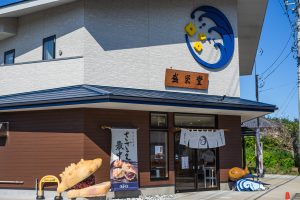 Minamiboso City is renowned for its loquat fruit, which is offered to the imperial family and makes it the largest loquat production area in Japan. The "Roadside Station Tomiura Biwa Club" in Tomiura-Cho is the perfect place to find original loquat goods, including their best-selling ripe loquat jelly. Biwa Leaf Throat Lozenges and Biwa Seed Lozenges are also available, containing Biwa leaf tea powder, which is known for its beauty and health benefits.
The fully ripe loquat jelly available at the Tomiura Biwa Club is a popular souvenir that makes it easy to enjoy the famous loquat. The jelly is made from the puree of Minamiboso's famous loquat, and the deliciousness of the fruit is concentrated in the elasticity of the jelly. The bright orange color of the jelly is just like the real loquat fruit, and it can be stored at room temperature for up to three months, making it easy to take home and enjoy the bounty of Minamiboso without worrying about spoiling.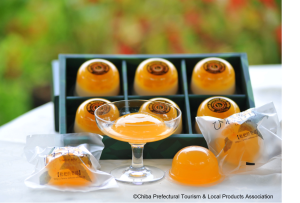 Boyodo in Aburi, Tateyama City is not only a must-visit spot for snack lovers, but it's also a landmark in the history of dairy farming in Japan. As the birthplace of dairy farming in Japan, Chiba is famous for its dairy products, and Boyodo's milk rice crackers are a testament to the region's rich dairy heritage. These crackers are made with fresh milk and flour from Chiba Prefecture, with a light cream filling that's sure to delight your taste buds. Don't miss the chance to try the famous peanut cream sandwich, made with roasted peanut powder, another Chiba specialty that adds a unique twist to these delicious treats.
But there's more than just sweet foods in Minamiboso. The area is also known for the production of domestic inshore horse mackerel, and the dried horse mackerel is a highly recommended souvenir. Only the freshest horse mackerel from the Kuroshio Current in the waters near Chikura in Minamiboso are used. The fish is carefully opened to ensure freshness and flavor, and processed with low salt content so that you can enjoy the true flavor of the horse mackerel.
Discover a virtual cookie jar of Japanese sweets and delicacies in Minamiboso City, perfect for foodies hungry for a unique experience. From marine-inspired wagashi to loquat jelly, Minami-Boso City boasts tasty souvenirs just waiting to be enjoyed. Don't miss the dairy delights of Boyodo – head to Minamiboso for a culinary adventure by the sea!