Looking for a quick getaway from Tokyo? Look no further than Sawtooth Mountain and the surrounding Minamiboso area!
Sawtooth Mountain is a popular spot with lush greenery, a staircase-like boardwalk with a rock-cut Kannon (Goddess of Mercy) and a large Buddha, and an exciting observation deck at the top of the mountain that offers views unique to a temple on a mountain, which can be reached by a ropeway from the base of the mountain.
The first path down leads to the highlight, the Hyakushaku Kannon. And at the top of this magnificent sculpture is the most popular viewing platform. The view is called "Jigoku-nozoki," which means "a glimpse of hell," and as the name implies, it is right on the edge of a cliff. But because it is on the edge of a cliff, the view is truly heavenly!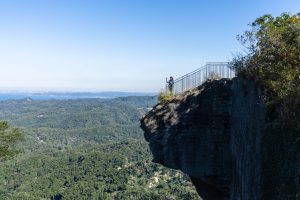 If you want to enjoy nature even more, we recommend visiting Cape Taibusa Misaki, which juts out into Tomiura Bay. There is a nature park here where you can enjoy the sea and mountains at the same time. Mt. Fuji is visible on a clear day, and a walk through the nature-rich park will make you feel like you are on a little adventure.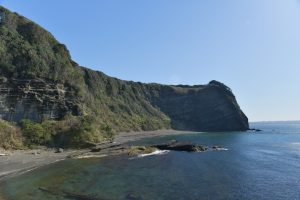 To top off your trip, take the Tokyo Bay Ferry on your way back. The ferry offers a panoramic view of Tokyo Bay, including passing ships and even Mt. Fuji on a clear day. With more than 10 departures per day on weekends, visitors can easily spend a full day exploring the mountain and surrounding area before returning home.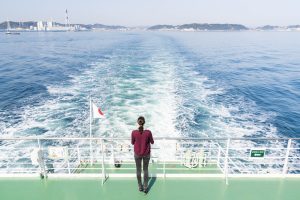 For those wishing to take the ferry, there is no reservation system for either hikers or cars, so it is a first-come, first-served basis. Cars are also accepted on a first-come, first-served basis. On weekends and holidays, the morning and afternoon services may be a little crowded, but you can usually board without waiting.

At the end of your visit to Minamiboso City to explore, we recommend that you take the route to Mt. Sawtooth and take the ferry on the way back home! It is the "best way" to enjoy the sightseeing to the end!