Located in the southern part of Chiba Prefecture, Minamiboso is an area known for its stunning beaches and lush greenery. Summer is a wonderful season to explore its beautiful charms of and cycling is a highly recommended way to do so. Chikura-Cho in particular is a great place to experience the local culture and scenery on two wheels. Here, there is a 1.5 kilometer breakwater known as the "Chikura Art Sea Walk". It is home to nearly 140 wonderful pieces of art created by 30 talented artists, and is a true treasure of the area.


https://www.cm-boso.com/chikura_art.html
But cycling isn't the only activity you can enjoy in Minamiboso. SUP&DINING KUPONO, located in front of the breathtaking Haraoka Beach, is a popular spot that offers a unique experience of stand-up paddleboarding (SUP) and dining experience in the area.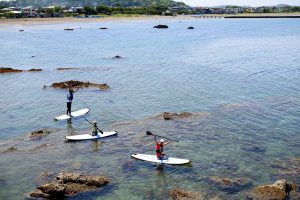 While primarily a SUP shop, KUPONO also offers a cozy café serving delicious meals, including classic Japanese dishes such as Tendon, Yakiniku, and Katsudon. For those who prefer lighter meals, there is also a Soba/Udon menu and a snack menu.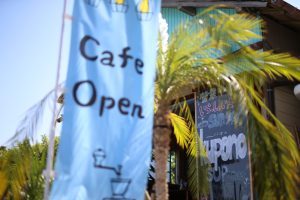 You can rent a set of SUP boards and explore the calm waters surrounded by nature or just relax and enjoy the view. After a long day at sea, you can relax with a drink and watch the sunset from the pier.
For food lovers, we recommend you try the local cuisine of Minamiboso. Horse mackerel is one of the most popular dishes in the area, and Minamiboso is considered one of the leading areas for horse mackerel production. The horse mackerel is simply delicious and we highly recommend that you try it while you're here.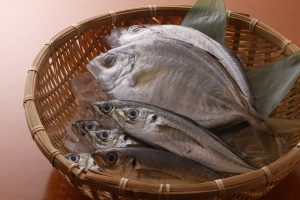 One of the best types of horse mackerel in the area is the "golden horse mackerel," which feeds on shrimp and other fish that live in the shadows of rocks on the sea floor and remain in one place, never moving.
There are three traditional ways to enjoy horse mackerel in Minamiboso. "Namerou" is a dish in which fresh horse mackerel meat is mixed with ginger, green onions, and other ingredients and finely chopped with a knife. "Sangayaki" is a dish made by grilling the mixture. And the most popular dish is "fried horse mackerel". Freshly fried horse mackerel has a crispy batter and fluffy meat, and when served with salt, the fluffy taste of horse mackerel is enhanced.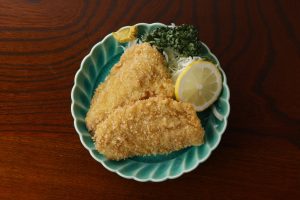 There are many restaurants in Minamiboso where you can enjoy horse mackerel dishes. We hope you will enjoy the delicious taste of horse mackerel and enjoy the unique flavors of Minamiboso.
The stunning views, cycling, exciting SUP activities, and delicious seafood promise an unforgettable experience in Minamiboso.