Calling all the loquat lovers out there! Come check out Roadside Station Tomiura Biwa Club where you can enjoy curry and soft serve ice cream made with loquat, a local fruit. Known as "biwa" in Japanese, this fruit is so common here that they named the Roadside Station after it!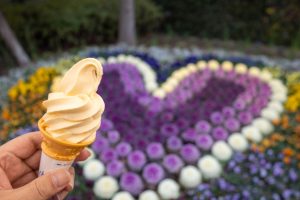 Located near the coast of Minamiboso, the Biwa Club offers not only delicious food, but also a variety of activities and accommodations. One of the highlights of Biwa Club is the "Strawberry Garden" green house, where you can compare the taste of 5 different types of strawberries and even enjoy all-you-can-eat strawberries (reservation required).
If you're looking for a place to stay, the nearby Chikura Tsunagu Hotel offers a variety of accommodations to suit your needs. Wake up in the morning to sunlight streaming in through the large windows of your room, or experience a nostalgic atmosphere in the large Tatami mat room. The hotel also has tent accommodations where you can feel nature up close. The smell of the sea breeze and the scent of the shore, the colors of the expansive sky, and the stars that shine more clearly than in the city – you'll find it all here.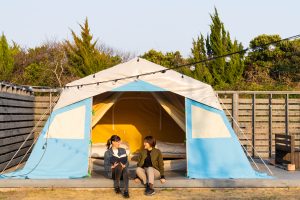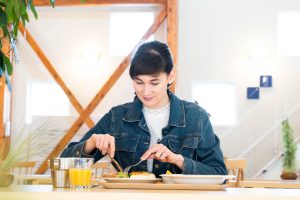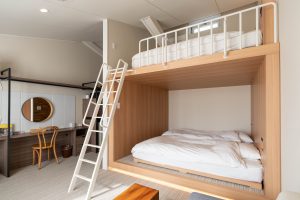 For those looking for a fun activity in Minamiboso, consider visiting the Biwa Club and the Boso Flower Line. From January to spring, the coastal Boso Flower Line offers breathtaking views of field mustard, and marigolds in the summer. On a clear day, you can even catch a glimpse of Mount Fuji and Izu Oshima. Along the way, make pit stops at the Sunosaki Lighthouse and the Awa Shrine to fully appreciate Minamiboso's fantastic destinations.
Don't miss the opportunity to visit the beautiful field mustard in Shirahama.
With the blue sky as a backdrop, the sight of flowers blooming over the nearly 2000㎡ area creates a stunning yellow carpet. This picturesque scene is sure to be a hit on Instagram! Although field mustard are typically associated with spring, they are at their best in February due to Minamiboso's mild climate.