Tenzen is a traditional Japanese restaurant located deep in the mountains in the Maruyama area. Operating out of an old-style Japanese house, Tenzen serves all manner of traditional and seasonal Japanese cuisine. The owner also has a huge collection of kimono, katana, and ninja weapons that you can try on and try out. Though it may be a bit difficult to get to as it's only accessible by car, it's worth the trip. Reservations are required.
We visited Tenzen for lunch in April. The first thing you notice when you step through the impressive outer gate is that you appear to have been transported back in time. The front of the restaurant is a treasure trove of collected knick-knacks and tchotchkes from the 20th century, making you feel like you've walked into a Showa era store. The main dining room is a traditional tatami room with a low table, similarly decked out with interesting decor.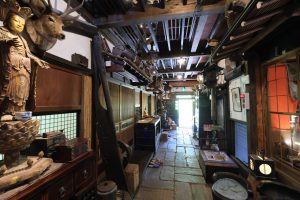 We were offered a choice between a meat course or a seafood course to be cooked over charcoal grills already heating up on the table. We elected to sample both. The dishes came out one by one, each one fresher than the last and incredibly local. The owner gave us a brief overview of each dish as he brought them out, and almost every ingredient seemed to come from the Minamiboso and Tateyama area. The dishes included some of the freshest vegetables I've ever tasted, and the seafood was equally as delicious; it was so fresh that the owner let us know that cooking it was strictly optional. Even dessert was fresh and local, made with ice cream using local milk and Tateyama strawberries.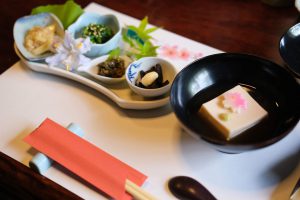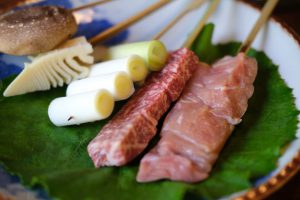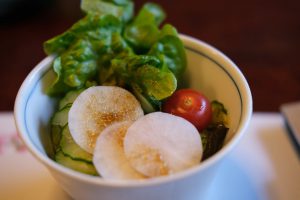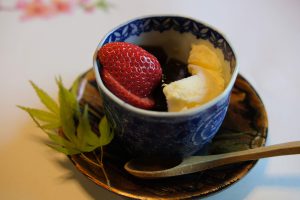 After lunch, the owner invited me to check out the second floor, which was filled with Showa and Taisho era items he had collected over the years. It was incredible– it felt almost like being in a museum. There were taiko drums hanging from the ceiling, huge iron pot hooks shaped like fish, traditional fisherman's kimono, and all manner of other traditional trinkets. Afterwards, the owner also showed me his collection of kimono, katanas (real, but dulled), and ninja weapons, and allowed me to try some on and give them a test run in the garden. I donned a machimusume (town girl) kimono and practiced drawing my katana from the sheath at my hip. I honestly felt super cool. The owner also showed me various ninja weapons he had and explained to me how each one worked. He was extremely knowledgeable, and clearly eager to share all that he knew. If you're a fan of samurai, the Edo period, ninjas, or cosplaying, I really recommend coming to check this out; this is not your typical "rent a kimono for 3 hours to take pictures in", this is the real deal!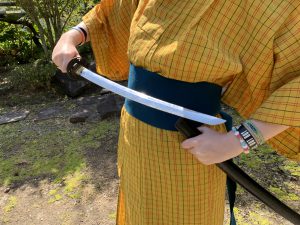 The garden and surrounding area is also beautiful; there's even a hiking path just behind the building, though unfortunately it was closed due to recent typhoon damage when we visited. Lunch at Tenzen really felt like connecting deeply to the season and the nature around you; I highly recommend making it part of your itinerary.