Take a trip with your family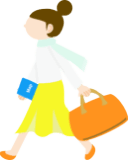 Fun things to do for all ages. Go fruit picking together and visit the aqaurium at Kamogawa Sea World.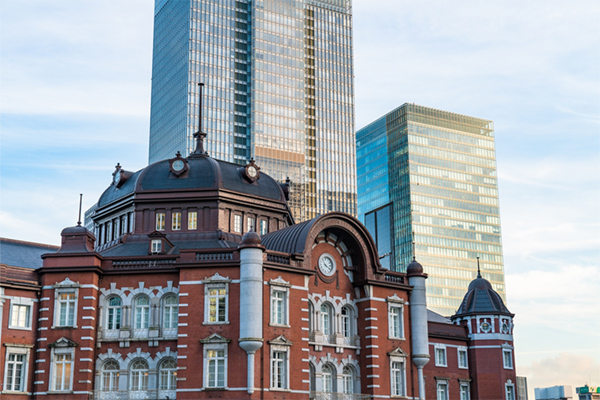 Tokyo Station
Tokyo Station, located in the Marunouchi district of Chiyoda, Tokyo, is a main transportation hub for the city.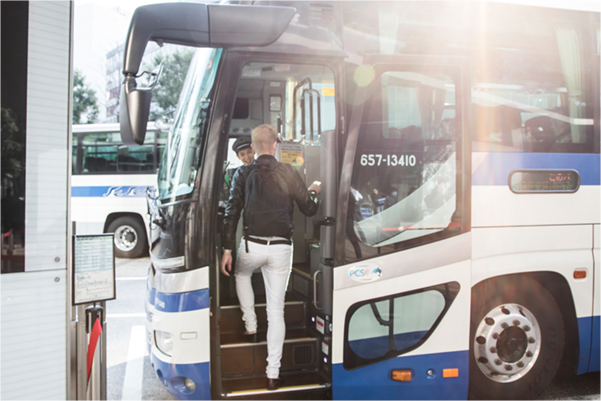 Highway bus
Highway buses are a convenient and inexpensive way to travel in Japan, connecting cities and regions.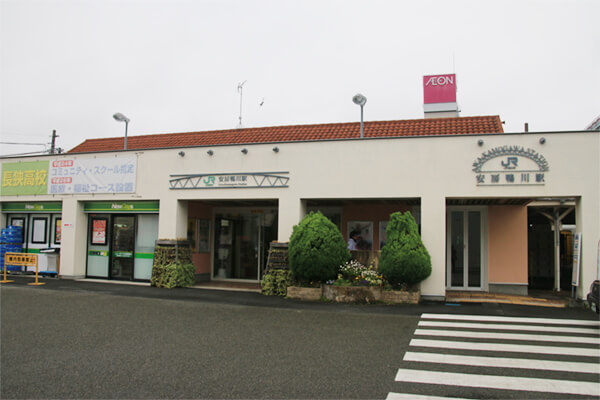 Awa-Kamogawa Station
You can take a highway bus from this station. There is also a free shuttle bus between the station and Kamogawa Sea World.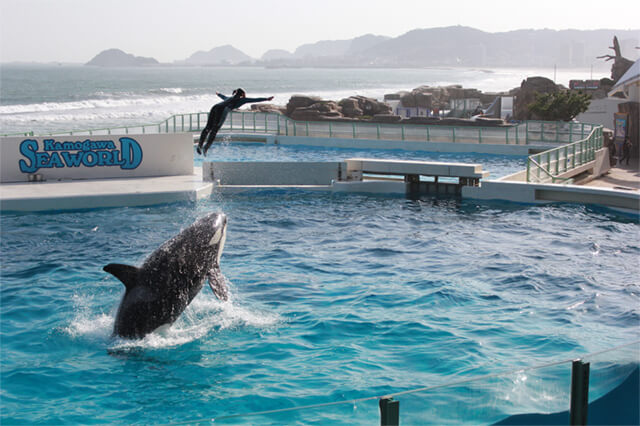 Kamogawa Sea World
Kamogawa Sea World is famous in Japan for its shows and orcas. The aquarium exhibits many sea and river animals. Hear how the white Beluga whales communicate with their twitter, see the laughing sea lions, and watch schools of beautiful clownfish and jellyfish. Kamogawa Sea World has its own hotel and a restaurant where you can watch orcas while you dine. People of all ages enjoy coming here.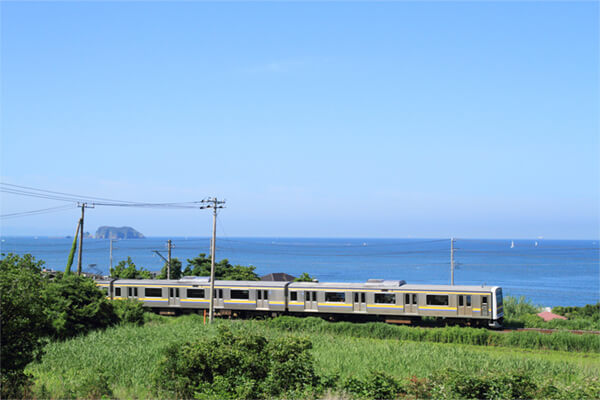 The Uchibo Line
The Uchibo Line travels through the Boso Peninsula, running from Soga Station in Chiba City to Awa-Kamogawa Station.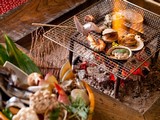 Chikurakan
Chikurakan is a ryokan, a traditinal inn. Japanese style rooms and onsen (hot springs) make this the perfect place to relax. Some of the baths are private, so you can enjoy them with your whole family. One popular dining option is to grill seafood at the Irori-dokoro, an open hearth found in traditional Japanese residences.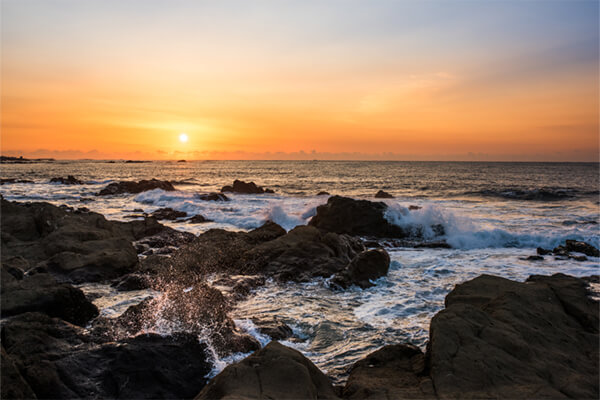 Watch the sunrise
Chikurakan's location makes it a great spot to see the sunrise over the Pacific Ocean.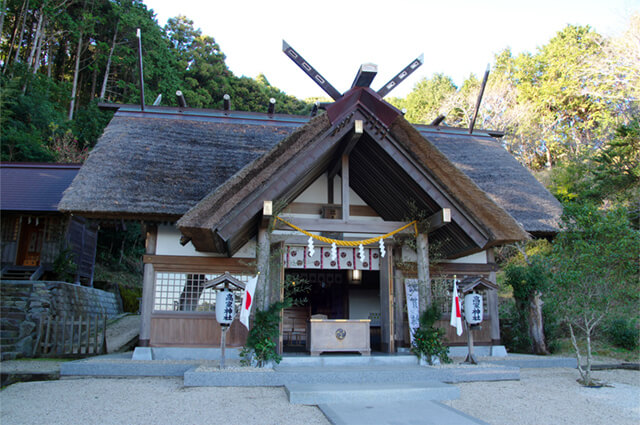 Takabe Shrine
This is the only shrine in Japan dedicated to the god of cooking. The Kami enshrined here is also regarded as the god for miso and soy sauce. People from the food industry such as chefs and producers of soy sauce and seasonings have come here to worship for generations. During the "Hocho-shiki" (knife ceremony) that takes place at Takabe Shrine every year, a fish is cut and prepared without touching it by hand, using a knife and long cooking chopsticks. This can be a carp, red sea bream, or butterfish.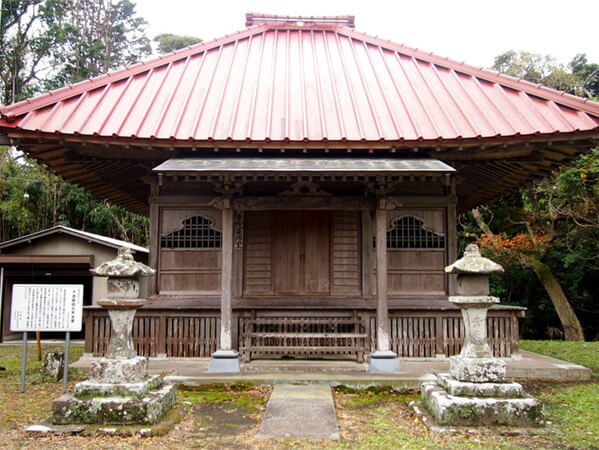 Enzoin Temple
Visit this temple and savor the quiet here. Enzoin is famous for the hydrangeas growing on the temple grounds. They are in bloom in mid-June.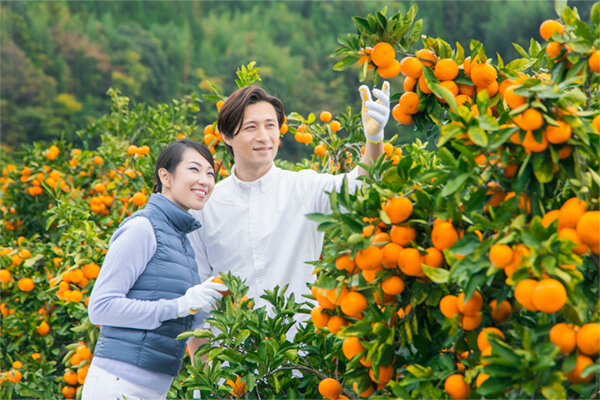 Mikan fruit picking (Mikan-gari)
Minamiboso is an area that produces mikan oranges. When the fruit is ripe from October to December, many farms offer Mikan-gari. This is an opportunity to pick fresh fruit yourself.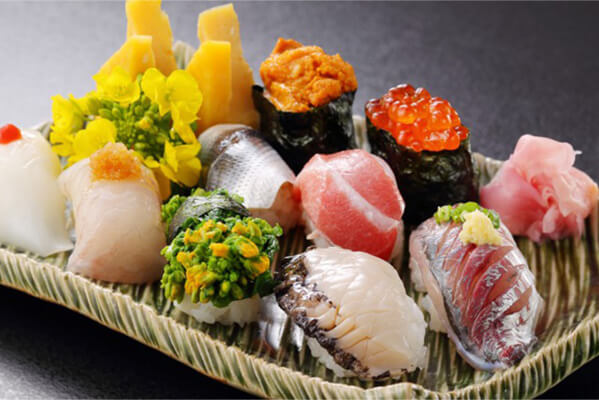 Daitokuya
Established in1869 and now in business for over 140 years, this is the oldest sushi restaurant in Minamiboso. You can taste truly local sushi and seafood here, made with fresh fish caught in Chikura. On some days even ocean sunfish (mola) and whale are on the menu.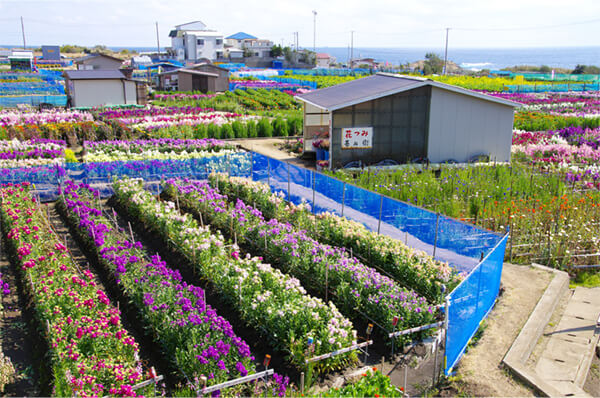 Flower fields
Along the road called Boso Flower Line you can visit local flower farms. Thanks to the mild climate in Minamiboso, early spring flowers are in bloom January to March.